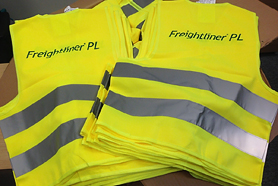 Out of concern for the safety of our children, we are running the Safe Pre-schooler Campaign for the third year in a row – where we provide high visibility vests to kindergartens attended by the children of our employees.
Based on information from our employees, we've created a list of kindergartens and contacted the institutions by phone to present our project and confirm if there is a need for reflective vests for toddlers. We enjoy the open and enthusiastic reactions received in response to our project. 20 preschools have already participated in our campaign, to which we have sent a total of 650 reflective vests.
We are convinced that reflective vests will improve visibility and increase the safety of children during group trips. We hope that vests are used as often as possible.