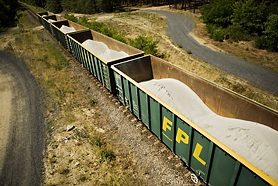 For more than a decade, we have specialised in aggregate haulage. We are the second largest aggregate carrier in Poland, and the first in the Polish-German trans-boundary haulage.
Our rolling stock has been adapted to the effective transport of large aggregate shipments, saving the costs of mobilising unloading equipment at the destination. The standard train for aggregate haulage offers one-off load capacity from 2,500 to over 3,000 tons. Our shortest wagons allow for one-off loading of over 2,600 tons of aggregate, at places where the train length with a locomotive is limited to 520 meters.
Our mainline locomotives can perform the necessary manoeuvres at loading and unloading yards without wasting precious time. Upon request, we can also organise the unloading of material at the destination station and transfer it to the place of final collection.
We are prepared to handle large investment projects and individual orders, always providing the highest quality of service and full information for the customer.